Responsible Gambling
We put responsible gambling at the heart of everything we do. This is why we have dedicated this page to help users identify and prevent gambling addictions. All renowned UK casino operators have a strict responsible gambling policy and offer several helpful links to independent sites that can assist players with compulsive gambling problems.
We do not encourage gambling and we advise you to leave our site immediately if you have any doubts whether or not you are on control of your gambling habits. On this page, you can find advice on how to detect and prevent pathological gambling, as well as useful links to player protection organizations.
How to Recognize Compulsive Gambling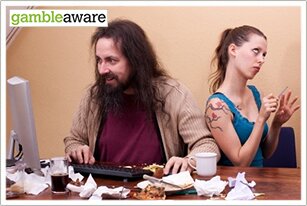 Nowadays, all you need to start playing on gambling sites is a credit or debit card and a solid Internet connection. As a result, the number of people who gamble on a daily basis has increased significantly. Of course, that doesn't mean that all people who gamble are addicted to it. It is however recommended that we don't ignore the signs of addiction in our behaviour or that of our friends. They are not always easy to spot, as most pathological gamblers lie about their affinity to such games of chance and may try to deny the fact that they have a problem. One of the aspects that you need to look out for is the time and money that you or your friends spend on gambling. Another clear sign of an addiction are the constant mood swings and not being able to find joy or satisfaction in any other activity. A person that spends less and less time with family and friends and has sleeping or eating disorders is most likely to have lost control over their gambling habits and is most likely in need of help.
How to Help People with Problem Gambling
www.rgsb.org.uk
www.responsiblegamblingtrust.org.uk
www.gamblersanonymous.org.uk
www.gamcare.org.uk
www.gamblingtherapy.org
If you have recognized any of these symptoms in your relatives' or friend's behaviour, the first thing you need to do is sit with them and get them to talk about their problems. Just like any other addiction, the first step is admitting you have a problem and ask for help. In most cases, people with gambling issues have financial problems and have borrowed money from one or all acquaintances in hopes of bringing back the money they have lost. Acknowledging their addiction is a crucial first step. The second step is closing their gambling accounts, with the help of customer support or simply helping them self-exclude themselves from the sites. Once you have done that, it is important for you to help him get the professional help he needs. There are numerous organizations like the ones present in the table on the right side which offer professional assistance to people in need and even support groups, while keeping the identity of the problem gamblers private and anonymous.
How to Prevent Fun from Turning into an Addiction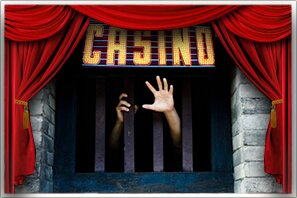 To avoid or prevent a problem, the first thing you need to do is know the causes behind it. So, if you like to participate in all kinds of raffles, lotteries or even making bets with your friends, maybe you should ask yourself whether you do it for the fun of it or for the adrenaline rush or financial reasons. To make sure these innocent activities don't turn into your addiction, we advise you to only gamble for entertainment and never with money that you cannot afford to lose. Be in control at all times and responsibly choose the time and money you are comfortable to gamble with. A great way of cutting your loses and keeping tabs on how much money you play are the wagering limits offered by all licensed gambling operators in the UK. Another important step in preventing gambling problems is knowing and accepting the fact that you cannot predict or influence the outcome of the games and play with that in mind. The result of games is determined by a Random Number Generator and not by your lucky day or socks. Furthermore, you need to realize that the probability of winning is lower than the probability of losing, so make sure you only gamble for fun.
Anonymous Ways of Evaluating your Gambling Habits
Many people are ashamed of admitting their addiction or are unwilling to reveal their identity, so responsible gambling organizations have found ways to help them without being asked to give any personal details. GamCare, for example, features a self-assessment test which can be done without any registration required. The only information that would be asked of you is you age and the type of game you usually play. The only condition is for you to be honest with yourself and answer the questions as accurately as possible and here is where the self-assessment part comes in. The same kind of test can also be found on the GambleAware site, along with useful information and statics about gambling in the UK.